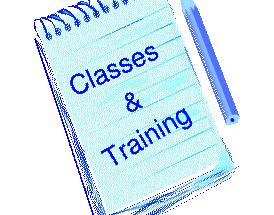 CLASSES: For all drop-in classes please let your instructors know if you plan on attending so that they can plan accordingly. All drop-in classes are set up as come when you can and the fee is $5 per class/dog for club members and $10 for non-members. Classes will be ongoing unless trials or shows in the area that weekend. Regular classes are $45 for members and $75 for non-members. Contact Sherry
Drop-In Classes
• Monday: Novice/Beginner Novice drop-in class for competition from 6:30 pm to 7:30 pm
• Tuesday 1 pm – conformation – Barb Allen
• Wednesday Agility – novice/beginner level 5:30 – 6:30 pm. Advanced level 6:30 to 7:30 pm.
• Saturday Rally Signs Practice 10 am-noon (ongoing unless notified by email)
• Sunday 1 pm – 4 pm –> obedience (all levels) – Lisa Thompson.
Regular Classes (6 weeks unless otherwise stated)
• Puppy Class starts Saturday, Aug 7 – Sept 4 from 9 am to 9:45 am (2 months old – after 2nd puppy shot – to 6 months old) 5 Week Class
•Beginner Obedience class offered by North Arkansas Kennel Club starts Monday, August 16 , 5:30 – 6:30 pm at our training facility in Flippin. (UPDATED)
If the instructor must cancel their perspective class, an email will be sent out. Instructors please can contact me and I can forward the email. Remember even though you do have a certain clientele, there may be others that choose to come so please let me know, and I can email all the members.